---
Welcome to ARN-Announce
Dennis Wagner, editor
Number Sixty-three, February 19, 2007
ARN-Announce is the on-line announcement and information service of Access Research Network. ARN generates announcements to the current ARN Announce list as information becomes available. You have received this message because your email address was submitted to this list. Subscription and Unsubscription information is at the end of this message.
Click here for a text-only version of this document.
IN THIS ISSUE OF ARN-ANNOUNCE:
ARN launches the ID Arts website
NEW BOOK: Billions of Missing Links
NEW BOOK: Darwin's Conservatives: The Misguided Quest
NEW ARTICLE: Hawk Moth Antennae as Gyroscope
NEW Website: Intelligent Design and the Arts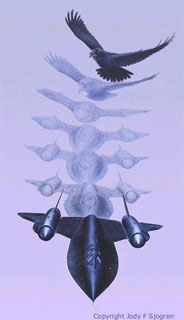 This week ARN launches the ID Arts website to explore the relationship between intelligent design and the Arts. Here you will find original artwork, poetry, literature, film festivals, movie reviews and more. Read why artist Jody Sjogren thinks the existence of art, and the human creativity experience, is one of the most convincing "proof-positive experiences" we have to validate intelligent design theory. Be the first on your block to own one of Jody's metamorphosis art prints (like Blackbird shown here) that illustrate how man-made designs often imitate the best designs found in living systems.
NEW BOOK: Millions of Missing Links by Geoffrey Simmons, M.D.
Dr. Simmons follows his first block buster book, What Darwin Didn't Know, which focused on the amazing design of the human body, with this fascinating book on the interdependent structures and massive complexity of all living systems. From the blue whale to the virus, from the macro to the micro, current scientific evidence reveals Darwinism's most fatal flaw–the billions of missing links in the story of the chance development of life.
NEW BOOK: Darwin's Conservatives: The Misguided Quest by John West.
Should Conservatives embrace Darwin? Conservatives such as George Will, James Q. Wilson, and Larry Arnhart have mounted a vigorous defense of Darwinian biology, even urging other conservatives to draw on Darwin's theory for support. In this small but incisive book, Dr. John West argues that the quest for "Darwinian conservatism" is misguided and fundamentally flawed. Contrary to claims by Darwin's conservatives, Darwinian evolution promotes relativism rather than traditional morality. It fosters utopianism rather than limited government. It is corrosive, rather than supportive, of free will and religious belief. Finally, and most importantly, Darwinian evolution is in tension with the scientific evidence.
Hawk Moth Antennae as Gyroscopes
Some of you may have noticed a sudden increase in the number of postings to our science literature news blog on the ARN home page. For this we want to thank David Tyler from the UK who scours the science journals on a regular basis looking for articles of interest to ID (he has a BSc and an MSc in Physics and PhD in management science). One of his latest posts is about an article on moth antennae. Until recently, it has been said that the moth's antennae are "primarily known as super-sensitive odor receptors--used to sniff out females and food from miles away--and researchers had hypothesized that they assist in flight only by acting as air flow sensors." But not now! The hawk moth's antennae have been found to perform the same role as the flies' halteres. They also experience Coriolis forces, detect rotational motion and relay this mechanosensory input to neural centers to maintain stability during flight. As research progresses, the living world appears to be packed with complex specified information. In these cases, it is legitimate to include intelligent design as an option in the causal explanations under consideration. This is because, outside the natural world, complex specified information is always associated with intelligent causation. This point is worth making because the abstract refers to flying insects evolving "sophisticated sensory capabilities", the hind wings having been "modified into club-shaped, mechanosensory halteres" and the editors of Science refer to the halteres as "vestigial". The science of this paper needs to be distinguished from the Darwinian spin.
---
ON-LINE ORDERING AVAILABLE FOR ARN PRODUCTS
All of the ARN products can be ordered through our web catalog store with secure credit card ordering. There you will find a description of each product and you may add as many products as you would like to the electronic shopping cart. The suggested donation for each item includes USPS Media Mail for North American orders, which typically arrive in 5-7 days. Overseas prices include Foreign Surface shipping which may take 4-8 weeks. For faster shipping please include an additional donation and request either USPS Priority or Foreign Air. If you provide your email address, you will receive an email receipt of your order. Place your order today online at www.arn.org (click the products links on the top menu bar). If you have any problems or questions, or would rather place your order by phone, call our toll free number at 1-888-259-7102 and our staff will be happy to assist you (or leave your order on our voice mail system if we are out of the office).
---
A FEW NOTES ABOUT ARN ANNOUNCE
ARN-Announce describes many of the upcoming events and new articles, books, videos and other resources on Intelligent Design. Please forward this message to several of your friends and colleagues to let them know about the resources available at Access Research Network (www.arn.org). Back issues of ARN-Announce can be found at www.arn.org/announce.htm
---
ARN-ANNOUNCE IS PRODUCED BY ACCESS RESEARCH NETWORK
ARN-Announce is produced by Dennis Wagner (dwagner@arn.org)
Access Research Network is a non-profit organization dedicated to providing accessible information on science, technology and society issues from an Intelligent Design perspective.
Mailing Address:
Access Research Network
PO Box 38069
Colorado Springs, Colorado 80937-8069
Contact:
(719) 633-1772 voice
(719) 520-1241 fax
(888) 259-7102 toll-free order line
On the web:
www.arn.org
TO ADD YOURSELF TO ARN-ANNOUNCE:
Send an email to "ARN-Announce-request@arn.org". The body of the message should consist of the word "SUBSCRIBE" and nothing else. Or visit the web page at http://arn.org/mailman/listinfo/arn-announce_arn.org and select Subscribe and enter your email address. You will receive a confirmation email indicating your name has been submitted to the list. Follow the directions and reply to the email and your email address will be added to the ARN-ANNOUNCE list.
TO REMOVE YOURSELF FROM ARN-ANNOUNCE:
Send an email to "ARN-Announce-request@arn.org". The body of the message should consist of the word "UNSUBSCRIBE" and nothing else. Or visit the web page at http://arn.org/mailman/listinfo/arn-announce_arn.org and select Unsubscribe and enter your email address. Your email address will be automatically removed from this list.
---
---
Copyright 2007 Access Research Network. All rights reserved. International copyright secured.
2.19.07