Access
Research
Network
---
Welcome to ARN-Announce
Dennis Wagner, editor
Number Sixty-nine, December 24, 2007
ARN-Announce is the on-line announcement and information service of Access Research Network. ARN generates announcements to the current ARN Announce list as information becomes available. You have received this message because your email address was submitted to this list. Subscription and Unsubscription information is at the end of this message.
2007 Year-end Report
Merry Christmas and Happy New Year from the ARN Staff:
We want to thank you for your support of ARN this past year. We depend on your product purchases and tax-deductible donations to make ARN one of the leading information portals on intelligent design. In appreciation for each donation of $50 or more received by January 15, 2008, we would like to send you one copy of the latest ID book hot off the press, The Design of Life: Discovering Signs of Intelligence in Biological Systems. This beautiful 339 page hardback text by leading design theorists William Dembski and Jonathan Wells will soon become the de facto text for explaining intelligent design theory to older students and the general adult reader.
You can make your donation online (just indicate you would like a copy of the Design of Life book in the comment field when you check out) or leave your credit card information and calendar request on our secure voicemail toll-free (888) 259-7102 or (719) 633-1772.
And if that's not exciting enough we would also like to offer those who donate $50 or more access to our new online quote database with over 1,500 quotes relevant to the origins debate, fully cataloged and ready for your instant search (more details provided below).
ID Snapshots from 2007
As this year draws to a close, I'd like to present a few snapshots of what's been happening around the world with the Darwin vs. Design debate, as well as what we have accomplished here at ARN:
Complexity of Molecular Machines – Science Daily reported on remarkable molecular "machines" in living cells, the ribosomes. These "factories" are giving scientists clues to the development of new antibiotics and revealing secrets about how cells use the genetic information encoded in DNA. The full story is in a February 19, 2007 article in Chemical & Engineering News (C&EN), American Chemical Society's weekly newsmagazine.
Broken Molecular Clock – In a paper that challenges the Darwinian model of evolution, University of Pittsburgh professor, Jeffrey H. Schwartz, contends that evolutionary changes occur suddenly as opposed to the Darwinian model of evolution, which is characterized by gradual and constant change. Schwartz's paper, "Do Molecular Clocks Run at All? A Critique of Molecular Systematics," appears in the journal Biological Theory.
Time to Abandon Darwin's Tree of Life – W. Ford Doolittle and Eric Bapteste from the Department of Biochemistry and Molecular Biology, Dalhousie University in Canada published a discussion paper suggesting its time to give up on Darwin's Tree of Life illustration because it doesn't fit the data.
Biological Big Bang Model Proposed – Eugene Koonin, a senior research scientist at the National Center for Biotechnology Information published a paper that claims: "The relationships between major groups within an emergent new class of biological entities are hard to decipher and do not seem to fit the tree pattern that, following Darwin's original proposal, remains the dominant description of biological evolution." The paper is entitled: "The Biological Big Bang model for the major transitions in evolution."
Treasure Trove of Homo Erectus Found – In the September issue of Nature Daniel Lieberman comments in his essay on a recent fossil find: "The fossil record of human evolution is like a pointillist painting: one sees a different picture close up from when one stands back." This analogy is actually very helpful. Normally, in science, gaining more data helps to fill in the picture so that the details can be seen more clearly. However, this is not so in human evolution. Gaining more data frequently leads to headlines that suggest a radical rethink of previous "knowledge". In this case, we have more data implying a mosaic of characters and greater variability. Zooming in on the picture is not revealing the details of a transformation story. Like a pointillist painting, evolution is only apparent from a distant vantage point. Close up, we see masses of data, but no coherent picture.
The Genomic Jungle Unveiled – On September 24, 2007 The Boston Globe reported that the science of life is undergoing changes so jolting that even its top researchers are feeling something akin to shell-shock. Just four years after scientists finished mapping the human genome - the full sequence of 3 billion DNA "letters" folded within every cell - they find themselves confronted by a biological jungle deeper, denser, and more difficult to penetrate than anyone imagined." Science is just starting to probe the wilderness between genes," said John M. Greally, molecular biologist at New York's Albert Einstein School of Medicine. "Already we're surprised and confounded by a lot of what we're seeing." A slew of recent but unrelated studies of everything from human disease to the workings of yeast suggest that mysterious swaths of molecules - long dismissed as "junk DNA" - may be more important to health than genes themselves. Several articles in Science News and Genomic Research describe the new level of cell complexity that is being unraveled.
"Truth be told" about Chimp-Human DNA comparisons – For over 30 years, the public have been led to believe that human and chimpanzee genetics differ by mere 1%. This 'fact' of science has been used on innumerable occasions to silence anyone who offered the thought that humans are special among the animal kingdom. "Today we take as a given that the two species are genetically 99% the same." However, this "given" is about to be discarded. Apparently, it is now OK to openly acknowledge that those who are involved in this research have never been comfortable that the 1% figure was an accurate summary of the scientific information. But more recent studies have made it impossible to sustain the old orthodoxy. They have raised "the question of whether the 1% truism should be retired."
While the science news related to ID continues to move forward in a positive direction, the political news continued a disturbing trend as evidenced by these stories in 2007:
Kansas Board Establishes Materialism – In February the Kansas State Board of Education threw out a model for teaching origins science objectively. In the place of objective standards the Board inserted a new model which allows only material or natural causes to explain the origin of natural phenomena. According to the new standards all of scientific knowledge can be reduced to the "physical" in terms of matter, energy and the forces. Even human consciousness, which science studies, is reduced to the physical. Only one answer is allowed to the question: Where do we come from? The answer: material causes - the random interactions of matter, energy and the forces.
Guillermo Gonzalez Denied Tenure at Iowa State – ISU President Gregory Geoffroy said in June that Gonzalez's advocacy of the "intelligent design" concept was not a factor in the decision to turn down his request for tenure. Geoffroy said he focused his review on Gonzalez's overall record of scientific accomplishment as an assistant professor at ISU. However, based on e-mails uncovered by a local journalist, it appears that the decision had been made to turn Gonzalez down for tenure before he had actually applied for it, and the reason was his advocacy of intelligent design.
Baylor Shuts Down Professor's Website – In August, the Baylor University administration shut down Professor Robert Marks's Evolutionary Informatics Lab and website because the lab's research was perceived as linked to intelligent design. Robert J. Marks II, is the Distinguished Professor of Electrical and Computer Engineering at Baylor.
Science Guidelines Established in UK – In September after a number of requests from teaching unions and civic bodies, including the Christian think-tank Ekklesia and the British Humanist Association, the UK Department of Children, Schools, and Families issued guidance for teachers uncertain whether and how to discuss creationism - which is rejected by both scientists and theologians as lacking factual and theoretical value. A statement on Teachernet, a government website, states that "Creationism and intelligent design are not part of the National Curriculum for science" and describes "intelligent design" as "a creationist belief" that "is sometimes erroneously advanced as scientific theory but has no underpinning scientific principles or explanations supporting it and it is not accepted by the international scientific community."
Council of Europe calls ID a Threat to Human Rights – In October Europe jumped into the origins debate as the Council of Europe (CoE) adopted a resolution regarding "The dangers of creationism in education," which calls intelligent design (ID) "a threat to human rights." The CoE is a non-governmental body in Europe that aims to protect human rights, but its resolutions carry no force of law. Even if the CoE's edicts did carry the force of law, it's difficult to take this resolution seriously due to its assertion that questioning Darwin somehow threatens human rights. David Berlinski, a mathematician and Discovery Institute senior fellow who lives in Paris and has made many scientific critiques of Darwinian evolution, gives an insightful analysis of the resolution.
Expelled: Coming to a Theater Near You—Be not discourage by these political movements to stamp out ID from scientific inquiry and our culture at large. Ben Stein, actor, speech writer, and thinker extraordinaire, has one-upped Michael Moore with his new investigative documentary that takes an entertaining and yet serious look at the materialist campaign against free speech and free thought in his new movie Expelled: No Intelligence Allowed. Here is my endorsement after watching a private screening of the director's cut recently:
"It is rare to find a movie that is entertaining, educational and motivational, but that is exactly what you get with Ben Stein's documentary Expelled: No Intelligence Allowed. Ben puts on his sneakers and interviews highly qualified scientists, academics and journalists who have had their careers ruined because they dared to question the modern day creation story of Darwinian evolution. Equally revealing are Ben's interviews with the leading academics behind the Darwinian establishment such as Richard Dawkins, Daniel Dennett, William Provine, and PZ Myers. This movie only samples the tip of the iceberg of academic and intellectual persecution in the land of "freedom" and may trigger a cultural revolution as more people are emboldened to tell their story and make a stand."
– Dennis Wagner, Executive Director, Access Research Network

Look for the movie to appear in your local theater sometime this spring. Help spread the word to friends and family between now and then. This is the kind of movie that can change public policy as citizens began to understand the discrimination that is taking place along with the suppression of free inquiry.
More details on many of these stories can be found in our ID News Blog. Use the embedded links above or just type in a few key words from the story into the blog search box to find the original report. Many thanks to our team of ARN bloggers including Tom Magnuson, Denyse O'Leary, David Tyler, Roddy Bullock, and Kevin Wirth for keeping all of us to date with ID news and commentary. And, of course, our thanks also to Dr. Howard Glicksman for his feature column on the irreducible complexity of the human body.
ARN Activities in 2007
We continued to produce new products documenting the ongoing debate and the growing intellectual dissatisfaction with the worldview of naturalism and the increasing interest in detecting design in nature. In addition, we added a host of new ID products from other sources to our growing catalog:
Products we produced in 2007:
Quote Database – A major portion of our development work this year has been focused on creating and streamlining an online quote database that currently features over 1,500 quotes related to the Darwin v. Design debate. Called My Evolution Quotes (or MEQ for short), the database project is being spearheaded by Kevin Wirth, ARN Director of Product Development.
To be effective, the users of any quote database must have a high level of confidence in the quality and accuracy of the quotes. To achieve this goal, the database has been constructed with independent verification of each quote and the ability to add scanned pages from the original source so the user can verify the quote independently and assess the original context of the quote.
The database features a powerful keyword search capability to allow users to generate a custom report of quotes on demand, using single or multiple keywords. Another feature of the database is the automated generation of keyword and author reports. Currently, this system automatically generates and updates .pdf reports on a daily basis for over 5,000 keywords and hundreds of authors.
As an additional "thank you" to our supporters who donate $50 or more, we would like to provide you with a sample .pdf quote report AND access to the database for your own personal research. Just indicate with your donation that you would like access to the quote database (MEQ) and we will send you an email with instructions for logging on.
We are also seeking volunteers to assist with the quote entry and verification process. If you would like to be part of the quote database team, just let us know and we will put you in touch with Kevin.
YouTube Video Clips – The internet is changing the way our culture communicates as evidenced by the phenomenal growth of MySpace, Facebook and YouTube, especially among the younger generation. In order to make the evidence for ID readily available to the next generation, ARN launched a YouTube site this summer making over 50 video clips from our lecture and debate products available for free viewing. During the first three months the clips had over 20,000 viewings and hundreds of visitors who have subscribed to our channel or linked to our videos from their own YouTube site.
ID Arts Website – If you have not visited our ID Arts website yet, be sure to check out the creative contributions of philosophy student and writer James Hoskins, the recordings of pianist Gil Dodgen, the opera analysis of chorister Mike Dodaro, the paintings of artists Jody Sjogren and the many other contributions from those who believe our worldview influences our art.
Products we added to our online catalog in 2007:
New Book: The Edge of Evolution: The Search for the Limits of Darwinism
by Michael Behe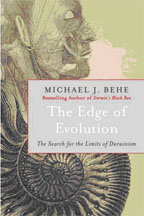 Without a doubt, this is the blockbuster ID book of 2007. Biochemist Michael Behe reviews the scientific data and lays out clearly what evolution can and cannot do which he identifies as the "Edge of Evolution". Darwin's proposed mechanism -- random mutation and natural selection -- has been accepted largely as a matter of faith and deduction or, at best, circumstantial evidence. Only now, thanks to genetics, does science allow us to seek direct evidence. The genomes of many organisms have been sequenced, and the machinery of the cell has been analyzed in great detail. The evolutionary responses of microorganisms to antibiotics and humans to parasitic infections have been traced over tens of thousands of generations. As a result, for the first time in history Darwin's theory can be rigorously evaluated. The results are shocking. Although it can explain marginal changes in evolutionary history, random mutation and natural selection explain very little of the basic machinery of life. The "edge" of evolution, a line that defines the border between random and non-random mutation, lies very far from where Darwin pointed. Behe argues convincingly that most of the mutations that have defined the history of life on earth have been non-random.
New Book: The Design of Life: Discovering Signs of Intelligence in Biological Systems
by William Dembski and Jonathan Wells
Coming in a close second behind The Edge of Evolution is this new text by two of the leading ID theorists. This 339 page color hardback is the best one stop resource for understanding Intelligent Design and the underlying concepts such as molecular machines, information content in biological systems and irreducible complexity.
New Video: Teaching Origins Objectively: The Kansas Science Hearings
Twenty three expert witnesses testify about two distinctly different models for teaching about the ultimate question of our origins to children in Kansas schools. They included 5 PhD biologists, 4 PhD biochemists, 3 PhD Chemists, 1 PhD Geneticist (the inventor of the Gene Gun), 1 PhD Quantum Physicist, 3 Philosophers of Science, 1 PhD Professor of Education, 3 biology teachers, a Muslim science writer and an attorney. This fast-paced documentary is filled with drama, as witnesses testify about systematic suppression of the controversy, fear in the class room and loss of jobs for teaching Darwin objectively. All of the witnesses were cross examined by an ACLU attorney. The hearings end with fireworks - a shocking refusal of the Darwinian materialists to submit to questions from the other side.
New Book: The Spiritual Brain: A Neuroscientist's Case for the Existence of the Soul
by Mario Beauregard and Denyse O'Leary
Many scientists ignore hard evidence that challenges their materialistic prejudice, clinging to the limited view that our experiences are explainable only by material causes, in the obstinate conviction that the physical world is the only reality. But scientific materialism is at a loss to explain irrefutable accounts of mind over matter, of intuition, willpower, and leaps of faith, of the "placebo effect" in medicine, of near-death experiences on the operating table, and of psychic premonitions of a loved one in crisis, to say nothing of the occasional sense of oneness with nature and mystical experiences in meditation or prayer. Traditional science explains away these and other occurrences as delusions or misunderstandings, but by exploring the latest neurological research on phenomena such as these, The Spiritual Brain gets to their real source.
New Book: Real Science-4-Kids Pre-Level I Biology
Now you can teach your K-3rd grader the concepts behind real biology without the assumptions of the Darwinian worldview. Ten chapter lessons with eye-catching color illustrations introduce students to life, cells, food for plants, plant parts, growing a plant, protozoa, protozoa eat, butterflies, frogs and our balanced earth. Includes lab workbook and teacher's guide. The best biology text available for the age group and suitable for public, private or home school use.
New Book: Darwin Day in America: How our politics and culture have been dehumanized in the name of science
by John G. West
At the dawn of the last century, leading scientists and politicians giddily predicted that science—especially Darwinian biology—would supply solutions to all the intractable problems of American society, from crime to poverty to sexual maladjustment. Instead, politics and culture were dehumanized as scientific experts began treating human beings as little more than animals or machines. In criminal justice, these experts denied the existence of free will and proposed replacing punishment with invasive "cures" such as the lobotomy. In welfare, they proposed eliminating the poor by sterilizing those deemed biologically unfit. In business, they urged the selection of workers based on racist theories of human evolution and the development of advertising methods to more effectively manipulate consumer behavior. In sex education, they advocated creating a new sexual morality based on "normal mammalian behavior" without regard to longstanding ethical and religious imperatives. Based on extensive research with primary sources and archival materials, John G. West's captivating Darwin Day in America tells the story of how American public policy has been corrupted by scientism ideology. West's narrative explores the far-reaching consequences for society when scientists and politicians deny the essential differences between human beings and the rest of nature.
Don't forget about our ID apparel and merchandise store to help popularize intelligent design theory in a fun way. Check out our growing line of ID T-shirts, coffee mugs, caps, and 2008 calendars. And remember–in appreciation for each donation of $50 or more received by January 15, 2008, we would like to send you a copy of the new book The Design of Life AND provide you access to our new MEQ quote database. If you enjoyed hearing from us this year, we hope you'll take a moment to order a product or send in a donation so we can continue to serve you with high-quality news and educational products in the coming year.
For the staff here at ARN,
Dennis Wagner
Executive Director
---
ON-LINE ORDERING AVAILABLE FOR ARN PRODUCTS
All of the ARN products can be ordered through our web catalog store with secure credit card ordering. There you will find a description of each product and you may add as many products as you would like to the electronic shopping cart. The suggested donation for each item includes USPS Media Mail for North American orders, which typically arrive in 5-7 days. Overseas prices include USPS International shipping which may take up to 2 weeks. Please contact our office for faster shipping options. If you provide your email address, you will receive an email receipt of your order. Place your order today online at www.arn.org (click the products links on the top menu bar). If you have any problems or questions, or would rather place your order by phone, call our toll free number at 1-888-259-7102 and our staff will be happy to assist you (or leave your order on our voice mail system if we are out of the office).
---
A FEW NOTES ABOUT ARN ANNOUNCE
ARN-Announce describes many of the upcoming events and new articles, books, videos and other resources on Intelligent Design. Please forward this message to several of your friends and colleagues to let them know about the resources available at Access Research Network (www.arn.org). Back issues of ARN-Announce can be found at www.arn.org/announce.htm
---
ARN-ANNOUNCE IS PRODUCED BY ACCESS RESEARCH NETWORK
ARN-Announce is produced by Dennis Wagner (dwagner@arn.org)
Access Research Network is a non-profit organization dedicated to providing accessible information on science, technology and society issues from an Intelligent Design perspective.
Mailing Address:
Access Research Network
PO Box 38069
Colorado Springs, Colorado 80937-8069
Contact:
(719) 633-1772 voice
(719) 520-1241 fax
(888) 259-7102 toll-free order line
On the web:
www.arn.org
TO ADD YOURSELF TO ARN-ANNOUNCE:
Send an email to "ARN-Announce-request@arn.org". The body of the message should consist of the word "SUBSCRIBE" and nothing else. Or visit the web page at http://arn.org/mailman/listinfo/arn-announce_arn.org and select Subscribe and enter your email address. You will receive a confirmation email indicating your name has been submitted to the list. Follow the directions and reply to the email and your email address will be added to the ARN-ANNOUNCE list.
TO REMOVE YOURSELF FROM ARN-ANNOUNCE:
Send an email to "ARN-Announce-request@arn.org". The body of the message should consist of the word "UNSUBSCRIBE" and nothing else. Or visit the web page at http://arn.org/mailman/listinfo/arn-announce_arn.org and select Unsubscribe and enter your email address. Your email address will be automatically removed from this list.
---
---
Copyright 2007 Access Research Network. All rights reserved. International copyright secured.
12.24.07