In 1998, Xiao, Zhang & Knoll dazzled the palaeontological world with spectacular fossil embryos from Doushantuo, China. To find soft-bodied embryos is noteworthy in its own right, but these embryos were from the late Precambrian (the early part of the Ediacaran Period) and were identified as belonging to animals. The search for animal signatures before the Cambrian (when there was an explosion of animal life) has been intense - for Darwin predicted that they would one day be discovered and their absence presented him with a dilemma. Multicellular ediacaran fossils have been found, but their affinities with cambrian animals has been controversial. For example, one of the most widely cited examples (Charnia interpreted as a sea pen) did not stand up to critical scrutiny (Antcliffe and Brasier, 2007). Consequently, to find animal embryos in the early Ediacaran was deemed to be worth heralding. Stephen Jay Gould put pen to paper straight away, saying that "Fossils of tiny embryos 570 million years old may well be the greatest paleontological discovery of our time." More recently, Butterfield (2011) put it like this:
"Ever since Darwin there has been a disturbing void, both paleontological and psychological, at the base of the Phanerozoic eon. If his theory of gradualistic evolution be true, then surely the pre-Phanerozoic oceans must have swarmed with living animals - despite their conspicuous absence from the early fossil record. Thus, the 1998 report of fossilized animal embryos in the early Ediacaran Doushantuo Formation of South China was met with almost palpable relief."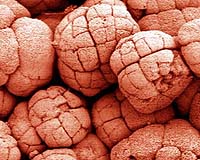 The Doushantuo embryos made an enormous impact (source here)
However, several researchers have found the "animal" interpretation unconvincing. The fossilised characters regarded as diagnostic of animals have been found in other types of organism. Other features that have been observed are not "animal" at all. The first major challenge came in 2007, when Bailey et al. documented similarities with a modern giant sulphur-oxidising bacteria going by the name Thiomargarita. However, there were still problems: this interpretation explained some, but not all, of the data. What was needed was more fundamental research in order to evaluate alternative hypotheses. The two most significant avenues of research have been: to probe the inner structure of the embryos using Synchrotron X-ray tomographic microscopy; and reappraising, using experimental taphonomy, what realistically can be preserved of biological tissue and how this can be distinguished from diagenetic mineralisation.
Hagadorn et al. (2006) used X-ray computed tomography and reported internal cellular structures that were suggested to be "fossilized nuclei, spindle bundles, or other organelles". This boosted the "animal" interpretation, but it was also consistent with the giant sulphur bacteria hypothesis.
Then came a bombshell. Huldtgren et al. (2011) showed internal features incompatible with multicellular metazoan embryos, instead, there was a good fit with the embryos belonging to protists, and the observations are of structures producing "propagules for dispersion".
In parallel with this research, an experimental taphonomy study was published by Cunningham et al. (2012). This tested the hypothesis that the embryos should be identified as giant sulphur bacteria. Distinct differences were found between the experimentally preserved and the fossilised forms. The authors concluded that the hypothesis is falsified. Kaplan's News report in Nature had this to say:
"Of the 450 fossils scanned, 14 were found to contain structures that look like nuclei. In one of these specimens, three of the eight structures even have the elongated or dumb-bell shape of modern nuclei about to replicate. This hints that the organism died during cellular division. "We were enthralled to find nuclear division preserved by fossilization. It confirmed that the fossil organisms were not bacteria, but we soon realized that they were not like animals either, as animal nuclei tend to lose their contours during cell division, and these nuclei did not," says Bengtson."
The expertise developed in this experimental approach to fossilisation has developed the knowledge base for distinguishing between preserved biological material and diagenetic mineralisation. This has allowed a more general evaluation of extant fossil material. One casualty has been Vernanimalcula guizhouena, also from the Doushantuo Formation, which has been interpreted as the earliest bilaterian animal. Now, the diagnostic animal features are regarded as the products of diagenesis (Bengtson et al., 2012).
This blog has been stimulated by a lecture on the Doushantuo microfossils by Dr John Cunningham of the University of Bristol and co-author of several of the research papers cited above. The lecture was very useful to me for putting into context the various contributions that have been made since 1998, and it made me think that its content should be more widely known. The lecture abstract gave the conclusion that "there is currently no convincing evidence for advanced animals with bilateral symmetry in the Doushantuo biota". This particular quest for animals preceding the Cambrian Explosion has drawn a blank. Needless to say, Darwin's dilemma remains in full force.
Links to the literature cited are provided above. The two most recent research papers are as follows:
Experimental taphonomy of giant sulphur bacteria: implications for the interpretation of the embryo-like Ediacaran Doushantuo fossils
J. A. Cunningham, C.-W. Thomas, S. Bengtson, F. Marone, M. Stampanoni, F. R. Turner, J. V. Bailey, R. A. Raff, E. C. Raff and P. C. J. Donoghue.
Proc. R. Soc. B, 7 May 2012, 279, 1857-1864 | doi: 10.1098/rspb.2011.2064
Abstract: The Ediacaran Doushantuo biota has yielded fossils interpreted as eukaryotic organisms, either animal embryos or eukaryotes basal or distantly related to Metazoa. However, the fossils have been interpreted alternatively as giant sulphur bacteria similar to the extant Thiomargarita. To test this hypothesis, living and decayed Thiomargarita were compared with Doushantuo fossils and experimental taphonomic pathways were compared with modern embryos. In the fossils, as in eukaryotic cells, subcellular structures are distributed throughout cell volume; in Thiomargarita, a central vacuole encompasses approximately 98 per cent cell volume. Key features of the fossils, including putative lipid vesicles and nuclei, complex envelope ornament, and ornate outer vesicles are incompatible with living and decay morphologies observed in Thiomargarita. Microbial taphonomy of Thiomargarita also differed from that of embryos. Embryo tissues can be consumed and replaced by bacteria, forming a replica composed of a three-dimensional biofilm, a stable fabric for potential fossilization. Vacuolated Thiomargarita cells collapse easily and do not provide an internal substrate for bacteria. The findings do not support the hypothesis that giant sulphur bacteria are an appropriate interpretative model for the embryo-like Doushantuo fossils. However, sulphur bacteria may have mediated fossil mineralization and may provide a potential bacterial analogue for other macroscopic Precambrian remains.
A merciful death for the "earliest bilaterian," Vernanimalcula
Stefan Bengtson, John A. Cunningham, Chongyu Yin, and Philip C.J. Donoghue.
Evolution & Development, 14(5), 421-427 (Sept/Oct 2012) | DOI: 10.1111/j.1525-142X.2012.00562.x [pdf here]
Summary: Fossils described as Vernanimalcula guizhouena, from the nearly 600 million-year-old Doushantuo Formation in South China, have been interpreted as the remains of bilaterian animals. As such they would represent the oldest putative record of bilaterian animals in Earth history, and they have been invoked in debate over this formative episode of early animal evolution. However, this interpretation is fallacious. We review the evidential basis of the biological interpretation of Vernanimalcula, concluding that the structures key to animal identity are effects of mineralization that do not represent biological tissues, and, furthermore, that it is not possible to derive its anatomical reconstruction on the basis of the available evidence. There is no evidential basis for interpreting Vernanimalcula as an animal, let alone a bilaterian. The conclusions of evolutionary studies that have relied upon the bilaterian interpretation of Vernanimalcula must be called into question.