It has been recognised for some time that the uniformitarianism of Charles Lyell has hindered the development of geological science. It is perhaps less widely known that Charles Darwin perceived himself initially as a geologist and he drew heavily on Lyell's uniformitarian agenda (for an example, go here). Later, as Darwin's focus moved to biology, he retained his commitment to a uniformitarian methodology: evolutionary gradualism was Darwin's attempt to apply uniformitarianism to biology. (For an example of it leading him astray in understanding inheritance, go here). Scholarly criticism of gradualism, however, has been muted because alternatives to Neo-Darwinism lack maturity and there are many hypotheses that await testing. Notwithstanding this, the data derived from a study of fossils has consistently pointed to discontinuity rather than gradualism.
"The ubiquity of morphological discontinuities between clades of organisms has troubled evolutionary biologists since Cuvier and Darwin and remains one of most important questions in evolutionary biology. Why is it that the distribution of morphologies is clumpy at virtually all scales? Although both Darwin and the proponents of the Modern Synthesis expected an 'insensible' gradation of form from one species to the next, this is only sometimes found among extant species (for example, among cryptic species) and is rare in the fossil record."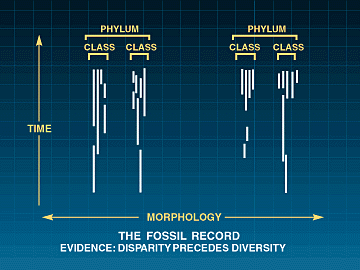 The pervasive pattern of natural history: disparity precedes diversity (source here)
Despite these problems, many Darwinists have found ways of turning evidence against their theory into something they can be positive about. Notably, they portray the fossil record as compelling evidence that evolution has occurred. Hard-line Darwinists explain morphological disparity by the non-preservation of intermediate forms, allowing them to insist that macroevolution is achieved by extrapolating microevolution. There are a growing number of scholars who recognise the need to develop theory beyond the Modern Synthesis and two approaches are summarised by Erwin thus:

"a hierarchical view of macroevolution where species sorting or selection drives evolutionary trends (although it is not clear how this produces a non-uniform distribution of morphologies); and various formalist or structuralist schools where major evolutionary transitions reflect structural or physical requirements, with selection entering only as a secondary sorting mechanism. Generally absent from each of these approaches is consideration of the possibility that the nature of the evolutionary process, as distinct from the organisms on which evolution acts, has itself evolved over time."
The "Cambrian Explosion" refers to the abrupt appearance of animal phyla and classes in the fossil record. It has been much discussed by both critics and defenders of Darwinism. Apart from pleading the impoverishment of the fossil record, the defenders have sought to 'spread out' the Explosion, to make it appear that gradualism can still be discerned. An example of this approach was blogged here, where I noted that critics have never insised on an instantaneous explosion, but have merely drawn attention to the numerous characteristics of the Explosion that are inconsistent with Darwinism. Stimulated by the iconoclastic approach of Stephen Jay Gould, the critics have shown themselves to be the true empiricists.

"These studies quantitatively substantiated Gould's intuitive conclusion: morphologies really are unevenly distributed at the origin of a clade. In the majority of cases studied, morphologic disparity greatly exceeds taxonomic diversity in the early history of a clade. This result could only be the result of sampling artifacts if one were to posit that unusual morphologies were more likely to be preserved and recovered than morphologies similar to one another, which is hard to credit. Such studies have demonstrated that the apparent gaps between morphologies are not simply due to extinction of once-intermediate forms."
In an important contribution to this debate, Douglas Erwin revisits the task of analysing data relevant to the first appearance of phyla and classes.

"Here I explore growing evidence that a significant factor in the clumpy nature of morphology is systematic, time-inhomogeneous patterns in types of variation upon which natural selection and other evolutionary processes could act. I present a new compilation of the first occurrences of marine invertebrate phyla, classes and equivalent stem groups during the Ediacaran, Cambrian and Ordovician, focusing on the Ediacaran-Cambrian (579-490 Ma) diversification of animals."
The summary of results for phyla is as follows. The pattern reinforces earlier research that concluded the Explosion is not an artefact of sampling. Much the same finding applies to the appearance of classes. These data are presented in Figures 1 and 2 in the paper.

"Ediacaran originations are relatively few, reflecting the uncertainties about the phylogenetic placement of most Ediacaran fossils. A major pulse of origination is evident in Cambrian Stage 1, largely of small skeletonized fossils known as the 'small shelly fossils', followed by the first appearances of many clades in Cambrian Stage 3, corresponding to the exquisite soft-bodied preservation of the Chengjiang biota in southern China. A later, smaller pulse is associated with first appearances in the Burgess Shale fauna of British Columbia, Canada. The only later occurrence of a durably skeletonized phylum is the Bryozoa in Cambrian stage 9. Twelve phyla are known only from the Recent and four phyla first occur in the fossil record after the late Cambrian: one each in the Carboniferous, Jurassic, Cretaceous and Eocene."
Having documented a non-uniformitarian pattern in the empirical data, Erwin turns to analysis and interpretation. He points to work on developmental gene regulatory networks (GRNs), termed kernels, that appear to be highly conserved and "remarkably refractory to subsequent evolutionary change" (previously discussed here). This research has concluded that developmental GRNs formed during the Ediacaran-Cambrian and that their stability corresponds to both the early disparity of the phyla and classes and also their subsequent stasis. This is why uniformitarianism fails as an explanatory framework:

"the establishment of these kernels early in the history of metazoan evolution suggests a temporal change in the type of developmental variation exposed to selection and drift, indicating that aspects of evolutionary change are not uniformitarian."
Erwin's paper helps to structure debate about these important issues. Questions about the origin of phyla and classes can now be represented in terms of the origin of biological information, notably developmental GRNs. Erwin's study shows that gradualistic, incremental approaches to the origin of biological information are in tension with empirical data. This is where debate, if it is to be meaningful, must be focussed.

"The pattern of origination of metazoan phyla and classes is highly non-uniform through the Phanerozoic, with an overwhelming bias towards the Cambrian and Ordovician. In the past non-paleontologists have attempted to rescue uniformitarian explanations by 'explaining away' this empirical pattern as a result of various biases. Both taxic and quantitative morphometric approaches have established that the pattern is accurate reflection of the appearance of morphological novelties. By combining this information on the pattern of morphologic evolution with mechanistic information from comparative studies of modern developmental GRNs, a new, non-uniformitarian view of evolution emerges. From this perspective, the growth of developmental networks has progressively structured the nature of accessible developmental innovations overtime."
There is a 'standard' explanation of the origin of biological information that has been developed by Darwinists (but not by Darwin - who was more interested in diversification than complexity increases). An example of this is given as an addendum - if Darwinists could take this seriously, it would help avoid the distractions of finch beaks and industrial melanism! Erwin's study shows that the Darwinian paradigm, whether or not it can explain the origin of information, is irrelevant to the origin of phyla and classes. We need a debate that takes biological information seriously, including its non-uniformitarian pattern. Causation can be found in Law, Chance and Design, but neither Law nor Chance can deliver complex specified information (here and here). This is why a debate that does not exclude design considerations on ideological grounds is long overdue.
Evolutionary uniformitarianism
Douglas H. Erwin
Developmental Biology, Volume 357, Issue 1, 1 September 2011, Pages 27?34.
Abstract: I present a new compilation of the distribution of the temporal distribution of new morphologies of marine invertebrates associated with the Ediacaran-Cambrian (578-510 Ma) diversification of Metazoa. Combining this data with previous work on the hierarchical structure of gene regulatory networks, I argue that the distribution of morphologies may be, in part, a record of the time-asymmetric generation of variation. Evolution has been implicitly viewed as a uniformitarian process where the rates may vary but the underlying processes, including the types of variation, are essentially invariant through time. Recent studies demonstrate that this uniformitarian assumption is false, suggesting that the types of variation may vary through time.
Addendum: On the origin of complexity by natural selection
The text below is taken from: Arthur, W. Creatures of accident, New York: Hill and Wang, 2006, pages 118-9.
Like so much about evolution, the production of complexity by natural selection is an accident, or, if you prefer, a by-product. Selection is never trying to achieve anything - it just happens. Because of the nature of the selective process, it inevitably produces adaptation. That is, it causes organisms to have forms and functions that are appropriate to their environment. It does not optimize such forms or functions; rather, it makes the best of a bad job in that it increases the frequency of fitter variants and decreases the frequency of less fit ones. [. . .]
Most selection, most of the time, is probably of this general kind: making limbs more appropriate to the nature of the environment; making beaks more appropriate to the nature of the food supply; and so on. We might call these changes complexity-neutral. But in some small proportion of cases, the thing that is fitter is also more or less complex than the thing it replaces. These, especially the "mores", are the cases on which we must focus our attention.