Alongside all the public interest in sporting prowess, recent research has added significantly to our knowledge of how the human body actually works. Many characteristics we take for granted now appear to be critical success factors. Take, for example, our toes. We do not need long toes, like monkeys and apes, because our toes are not used for grasping branches. But are they vestigial - withered remnants of once-grand appendages? The answer is: most definitely not! Whilst it is possible to walk comfortably with longer toes, running is different. Increase toe length by just 20% and there is a doubling of the peak digital flexor impulses and the mechanical work required.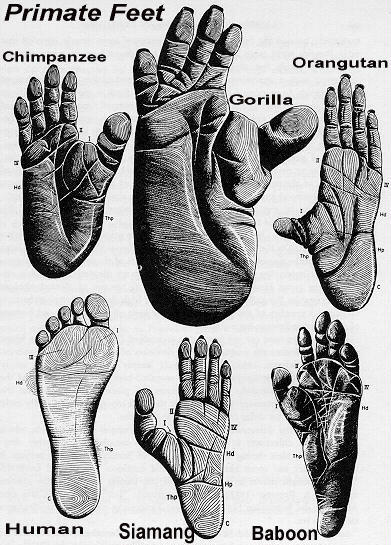 An image like this shows just how different the human foot is from the apes (Source here)
It emerges that the human body has numerous traits that all support the ability to run. In an informative piece in the New York Times, author Parker-Pope refers to the research into short toes saying that it:

"showed that the short toes of the human foot allowed for more efficient running, compared with longer-toed animals. Increasing toe length as little as 20 percent doubles the mechanical work of the foot. Even the fact that the big toe is straight, rather than to the side, suggests that our feet evolved for running. "The big toe is lined up with the rest, not divergent, the way you see with apes and our closest non-running relatives," Dr. Bramble said. "It's the main push-off in running: the last thing to leave the ground is that big toe." Spring-like ligaments and tendons in the feet and legs are crucial for running. (Our close relatives the chimpanzee and the ape don't have them.) A narrow waist and a midsection that can turn allow us to swing our arms and prevent us from zigzagging on the trail. Humans also have a far more developed sense of balance, an advantage that keeps the head stable as we run. And most humans can store about 20 miles' worth of glycogen in their muscles."
A few years ago, one of the authors, Daniel Lieberman, was involved in a related study. This was concerned with the gluteus maximus, said to be the the largest muscle in the human body. Parker-Pope also reports on this work, which found that the gluteus maximus is primarily engaged during running.

"Your butt is a running muscle; you barely use it when you walk," Dr. Lieberman said. "There are so many features in our bodies from our heads to our toes that make us good at running."
There would appear to be potential for clarifying the use of this muscle. It is important for posture, and another has made the comment: "As all weightlifters know, the primary purpose of the gluteus maximus is to raise the body from a deep squat." There is more to be said on these matters.
A noticeable element of this research is that the data are consistently interpreted in terms of natural selection pressures acting on natural variation. This is nothing unusual, because most biologists working in this field have come to accept Darwinism as their interpretative paradigm. Richard Dawkins speaks for many when he wrote in The Blind Watchmaker (Chapter 3) that "We have seen that living things are too improbable and beautifully designed to have come into existence by chance." Natural selection is perceived as giving direction to hereditable variation and results in incremental adaptation. This is how Lieberman and his colleagues approach the 'evolution' of short toes:

"The data suggest that having longer pedal phalanges, in the hallux and to some extent in the lateral toes, increases digital flexor force and work and might contribute to an increased risk of overuse injury during running. Although these effects presumably have negligible fitness consequences for habitually shod recent-modern humans who do not run long distances daily, they might have been significant enough to impose the kind of selective pressures that led to the observed changes in phalangeal size and shape during human evolution. For example, partial foot remains recovered at Hadar, Ethiopia, suggest that, by 3.6 million years ago, the lateral phalanges of A. afarensis were shorter than in the African great apes, but approximately 40% longer and more curved than in modern humans. This intermediate phalangeal morphology is thought to reflect a mixed behavioral repertoire comprising substantial arboreality and facultative terrestrial bipedalism."
What makes this a matter for concern is that no one appears to be talking about testing alternative hypotheses. It is as though the Darwinian explanation wins by default, and this does not make for healthy science. In particular, one hypothesis that is held by a great many people but is not admitted to academic debate, is that the human body is a product of intelligent design. The strength of this approach rests (a) in the holistic character of the alleged design; (b) the exquisite nature of the various characteristics; and (c) the claim that some of these features are irreducibly complex. (as in chapter 2 of Stuart Burgess' book The Origin of Man.
There are ways to test the Darwinian hypothesis. The presumed ancestor had elongated foot bones, illustrated here. To transform this stage to a short-toed human foot by natural selection demands gradual change and this is how the hypothesis can be tested. Where is the evolutionary pathway? Incidentally, the australopithecine feet should not be compared with the African great apes (as Lieberman) but with other ancestral apes contemporary with Australopithecus afarensis. This same line of reasoning about hypothesis testing means that design-based predictions of abrupt appearance can also be evaluated. Are evolutionists willing to allow this testing process to occur? Is this a debate that can be permitted in academic literature and in educational contexts?
Almost invariably, in the past, the idea that ID leads to testable hypotheses is blocked by the philosophical principle that all causes in science must be natural (law or chance). Despite repeated efforts to point out this is a metaphysical block, not one required by science, few take the time to address the point. However, it is encouraging to find some shifts in opinion from time to time. An example, surprising to most of us, is the concession Richard Dawkins gave to John Lennox in a debate last year.

"The deist god would be one that I think it would be [pause] one could make a reasonably respectable case for that. Not a case that I would accept, but I think it is a serious discussion that we could have." (The audio of this exchange can be accessed via http://www.fixed-point.org)
This is a welcome acknowledgement. For those wanting more input on this, the day after the debate, Melanie Phillips had an article in Spectator Magazine drawing attention to the significance of Dawkins' admission. The offer of a serious discussion is welcome. ID scientists do not ask for anything more than the freedom to present a respectable case. What is needed is for academics to abandon their doctrinaire attachment to methodological materialism in science.
Another perspective on this issue is to consider what needs to be done to build a robot that walks and runs. This task certainly focuses the mind and clarifies the issues. For an insight into the state-of-the-art, go here. PETMAN is wearing normal athletic shoes and exhibits a normal heel-to-toe gait. This robot is the product of intelligent design: many man-hours of effort by highly skilled scientists and engineers. Those who think natural selection acting on natural variations would do well to consider the immensity of the task they are expecting Darwin's mechanisms to accomplish.
Walking, running and the evolution of short toes in humans
Campbell Rolian, Daniel E. Lieberman, Joseph Hamill, John W. Scott and William Werbel
Journal of Experimental Biology 212, 713-721 (2009) | doi: 10.1242/jeb.019885
Abstract: The phalangeal portion of the forefoot is extremely short relative to body mass in humans. This derived pedal proportion is thought to have evolved in the context of committed bipedalism, but the benefits of shorter toes for walking and/or running have not been tested previously. Here, we propose a biomechanical model of toe function in bipedal locomotion that suggests that shorter pedal phalanges improve locomotor performance by decreasing digital flexor force production and mechanical work, which might ultimately reduce the metabolic cost of flexor force production during bipedal locomotion. We tested this model using kinematic, force and plantar pressure data collected from a human sample representing normal variation in toe length (N=25). The effect of toe length on peak digital flexor forces, impulses and work outputs was evaluated during barefoot walking and running using partial correlations and multiple regression analysis, controlling for the effects of body mass, whole-foot and phalangeal contact times and toe-out angle. Our results suggest that there is no significant increase in digital flexor output associated with longer toes in walking. In running, however, multiple regression analyses based on the sample suggest that increasing average relative toe length by as little as 20% doubles peak digital flexor impulses and mechanical work, probably also increasing the metabolic cost of generating these forces. The increased mechanical cost associated with long toes in running suggests that modern human forefoot proportions might have been selected for in the context of the evolution of endurance running.
See also:
Lieberman, D.E., Raichlen, D.A., Pontzer, H., Bramble D.M. and Cutright-Smith, E., The human gluteus maximus and its role in running, Journal of Experimental Biology 209, 2143-2155 (2006) | doi: 10.1242/jeb.02255
Parker-Pope, T., The Human Body Is Built for Distance, New York Times (October 26, 2009)