For years, the public has been bombarded with grandiose claims about the future benefits of genetic research for human health. Patients at risk could be diagnosed and treated before symptoms appeared, and the potential for devising cures was mooted. The story-line for this goes back to the discovery of the double helix and the recognition that genes were encoded in DNA sequences. Genes were considered to make mankind - or, as some would have it, mankind was considered to be the vehicle for making genes. This 'Genes-R-Us' mentality led to the idea that genetic causes were primarily responsible for illnesses and afflictions that could not be linked to bacteria or viruses. Geneticist Steve Jones writes:

"The hope was (and five years ago, it was a reasonable one) that such conditions could be blamed on a small set of common genetic variants. Track them down and we would begin to understand what had gone wrong [. . .]. The logic was to search the double helix for about half a million variants that could be used to set up a grid of diversity, scattered across the whole genome. This could then be scanned using a magic "chip", which could identify thousands of changes at once to see whether one, or a few, of the molecular milestones might predispose a given individual to a particular disease."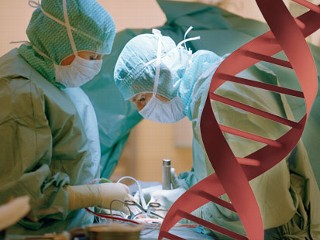 Those who think that advances in genetics will define the future of medicine are mistaken (Source here).
The tide has now turned. Sufficient results are now in to show that a change of direction is needed. Lessons need to be learned by academic, by funding agencies and by the general public. Over 100 large-scale projects have now been completed, looking for associations between genes and human diseases. On the way, statistical methodologies for finding associations have been refined so that researchers can now be sure that reported results reflect real biologic causation. In a Perspective piece, Goldstein asks the question: "But do they matter?"

"Unfortunately, most common gene variants that are implicated by such studies are responsible for only a small fraction of the genetic variation that we know exists. This observation is particularly troubling because the studies are largely comprehensive in terms of common single-nucleotide polymorphisms (SNPs), the genomic markers that are genotyped and with which disease associations are tested. We're finding the biggest effects that exist for this class of genetic variant, and common variation is packing much less of a phenotypic punch than expected."
Some examples are given: type 2 diabetes and height. Whilst similar conclusions are for both, the height trait is more substantial, because the robustness of the database. 20 polymorphisms have emerged from research, but collectively, they explain less than 3% of the population variation in height. Goldstein explains the basis of an equation to predict how many polymorphisms would be needed to explain 80% of the variation in height, and the answer comes out as 93,000. Whilst this figure could be reduced if there were significant numbers of undiscovered genes, the number is still in the thousands. This finding illustrates the general case and this means the original driver for this research (that we have genes for specific traits) was misconceived. Goldstein comments:

"If common variants are responsible for most genetic components of type 2 diabetes, height, and similar traits, then genetics will provide relatively little guidance about the biology of these conditions, because most genes are "height genes" or "type 2 diabetes genes." [. . .] But even though genomewide association studies have worked better and faster than expected, they have not explained as much of the genetic component of many diseases and conditions as was anticipated."
Goldstein's article accompanies three others in the current New England Journal of Medicine, and these provide a landmark for evaluating the extensive research of recent years. The story was picked up by The New York Times in an article by Nicholas Wade. It became front page news in the UK when Steve Jones, Professor of Genetics, entered the fray. Writing in The Daily Telegraph, he comments:

"In other words, our chances of being born with a predisposition to a common illness such as diabetes or heart disease are not represented by the roll of a single die, but a gamble involving huge numbers of cards. Some people are dealt a poor mix and suffer as a result. Rather than drawing one fatal error, they lose life's poker game in complicated and unpredictable ways. So many small cards can be shuffled that everyone fails in their own private fashion. Most individual genes say very little about the real risk of illness. As a result, the thousands of people who are paying for tests for susceptibility to particular diseases are wasting their money."
The problems troubling this research field are not a surprise to some. Those who are critical of genetic reductionism have long argued that the research community was going down the wrong track. The idea that genes have one function was disproved long ago, but the fallout of that thinking continues to this day. Still, the media gets excited when researchers claim to have found a gene for this or that trait. Genes are not everything: they are but part of a complex unity. The whole field needs to move on: so-called Junk DNA is not junk, but most of it has functionality; epigenetics is being recognised as a significant issue for understanding development,; the cell, not the nucleus, is an integrated whole and need to be considered as such; there are health, diet, exercise and lifestyle issues to address and also psychological factors to consider. This is where there is a link with ID: we need to shift our focus away from humans as an aggregation of molecular machines and towards humans as designed beings exhibiting an abundance of complex specified information.
Common Genetic Variation and Human Traits
David B. Goldstein
The New England Journal of Medicine, April 15, 2009 (10.1056/NEJMp0806284)
First para: The human genome has been cracked wide open in recent years and is spilling many of its secrets. More than 100 genomewide association studies have been conducted for scores of human diseases, identifying hundreds of polymorphisms that are widely seen to influence disease risk. After many years in which the study of complex human traits was mired in false claims and methodologic inconsistencies, genomics has brought not only comprehensive representation of common variation but also welcome rigor in the interpretation of statistical evidence. Researchers now know how to properly account for most of the multiple hypothesis testing involved in mining the genome for associations, and most reported associations reflect real biologic causation. But do they matter?
See also:
Alleyne, R. and Devlin, K. Genetic 'magic bullet' cures have proven a 'false dawn', The Daily Telegraph (21 April 2009)
Jones, S. One gene will not reveal all life's secrets, The Daily Telegraph (21 Apr 2009)
Koenig, R. Genome Scans: Impatient for the Payoff, Science, 324, 24 April 2009: 448.
Excerpt: [Francis] Collins says, "it is clear that most of the heritability for common disease has not yet been discovered - this is now generally referred to as 'the dark matter of the genome'". That dark matter is at the center of the current genomics debate.
Wade, N. Genes Show Limited Value in Predicting Diseases, The New York Times (April 15, 2009)