Robert Deyes
In his book The Crucible of Creation Conway Morris brought the Cambrian era of the earth's history to life with a pseudo-real journey into the past (Ref 1, pp. 63-115). Formidable amongst the examples of animals that he discussed was the Anomalocaris - a creature that David Gee would describe as, "a fearsome-looking metre-long predator" with "a circular mouth like a kitchen garbage-disposal unit" (Ref 2) What we also learn from the Cambrian explosion is that many of the animals that made their first appearance during that sudden moment of time would continue to exist for millions of years later albeit in different forms and in varying degrees of ecological 'domination' (Ref 3). The hand of a film director moving actors around the stage of life's theater is the picture that emerges. As paleontologist Niles Eldredge emphasized it is difficult to get away from the idea that someone was at the root of this theatrical jiggering:

"There really is something strange about the Cambrian. It is very much as if [. . .] life got going and somehow, somewhere, someone decided that it wasn't quite right. But rather than starting all over again, a simple, radical, reorganization was effected: new players were recruited, to be sure, and old ones dropped, but there was also a matter of emphasis - an expanded role for some, a diminished role for others - all rather reminiscent of cabinet changes at the beginning of a second presidential term" (Ref 3 p83)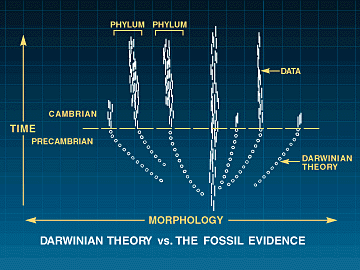 The Cambrian Explosion is in tension with the fossil data (Source here)
Eldredge described the Cambrian explosion as a global event in which, "very suddenly, and at about the same horizon the world over, life showed up in the rocks with a bang" (Ref 3. p24). Gregory Wray, Russell Doolittle and colleagues dismissed the suddenness of this event presupposing a much earlier, unrecorded divergence of animal life (Ref 4,5). Interestingly this sudden appearance was not confined solely to invertebrate phyla. In 1999 a team from the Northwest University in China found fossil specimens in the Chinese Chengjiang region that suggested that vertebrates had also experienced a sudden origin in the lower Cambrian (Ref 6). It was the sudden appearance of so many animal phyla or body plans in a period of only several million years that led Stephen Meyer and his colleagues to infer that a concurrent quantum leap must have occurred in the molecular and cellular components of these organisms (Ref 7, pp. 31-37). These observations led Stephen Meyer and colleagues to the conclusion that intelligent design, rather than natural, undirected processes, provided the best causal explanation for the origin of the Cambrian fauna (Ref 7). Likewise the subsequent maintenance of phyletic disparity from the Cambrian to the present day constituted a phenomenon that, based on what we know from our everyday experiences, implied intelligent causation (Ref 7). Concluding their arguments Meyer and colleagues wrote:

"As a result of this observed "stasis" and the absence of "directional change," the morphological disparity or isolation between distinct animal body plans has remained un-bridged. Moreover [. . .] developmental mechanisms constrain the degree to which organisms may vary without deleterious consequences. Intelligent design also helps to explain these phenomena. Human experience suggests that designed objects have a functional integrity that makes the modification of some parts of their basic architecture difficult or even impossible" (Ref 7, p39).
We only have to look at modern forms of technology to realize just how right such an assessment is. Many cases can be cited where technology exhibits the same functional form now as it did at its inception. The car is a classical example of this. While having changed in detail over the last 100 years (introduction of automatic gear shifts, aerodynamic shaping, turbo engines, etc.), the car exhibits the same functional form that it always has (axles, wheels, drive shafts and chassis) (Refs 7, 8). Conversely there are examples of technological form that exhibit a marked discontinuity. The CD ROM, for example, represents a functional unit that does not directly follow on from the technology employed in the earlier LP record. In short, LPs and the CD ROM demonstrate a functional and structural disparity that parallels that which we see in the Cambrian fauna. Our technological world is rife with such examples of systems that mirror the maintenance of functional integrity that we see in biology (Refs 7, 8).
The maintenance of the basic Cambrian body plans throughout their subsequent history is best demonstrated through what Meyer and colleagues call 'the inverted cone of diversity' (Refs 7, 8). To understand what we mean by this, consider the basis of the Darwinian model of natural selection - a model that predicts the gradual increase in diversity from a few common ancestors at the beginning of the evolutionary process. This model is precisely the reverse of what we see in reality since, as already demonstrated, the Cambrian displays phyletic-level disparity preceding species-level diversity (Refs 7, 8). This inverted cone is once again precisely what we see in the blueprints or prototypes of everyday technological designs. Such prototypes are conceived first and only then are parts assembled, changes made and slight modifications executed. The Cambrian reproduces this order of construction very well- animals are first materially instantiated in their disparate, phyletic groups forming the fundamental body plans upon which subsequent modifications are made (Refs 7,8). The Cambrian explosion thus represents the epitome of what the modern Intelligent Design (ID) movement is all about.
References
1. Simon Conway Morris (1998), The Crucible of Creation; The Burgess Shale And The Rise Of Animals, 1st Ed, Oxford University Press
2. David Gee (1999), Relics: Squashy fossil in the bag, Nature Science Update
3. Niles Eldredge (1987), Life Pulse: Episodes From The Story of The Fossil Record, Facts On File Publications, New York
4. Gregory Wray, Jeffrey Levinton and Leo. H. Shapiro (1996), Molecular Evidence for Deep Precambrian Divergences Among Metazoan Phyla, Science Vol 274 pp 568-573
5. Russell F. Doolittle, Da-Fei Feng, Simon Tsang, Glen Cho, Elizabeth Little (1996), Determining Divergence Times of the Major Kingdoms of Living Organisms with a Protein Clock, Science Vol 271 pp 470-477
6. D-G. Shu, H-L. Luo, S. Conway Morris, X-L. Zhang, S-X. Hu, L. Chen, J. Han, M. Zhu, Y. Li and L-Z. Chen (1999), Lower Cambrian vertebrates from south China, Nature 402, 42 – 46
7. Stephen Meyer, Paul Nelson and Paul Chien (2001) The Cambrian Explosion: Biology's Big Bang, http://www.discovery.org/articleFiles/PDFs/Cambrian.pdf
8. Stephen Meyer (2004), The Origin of Biological Information and the Higher Taxonomic Categories, Proceedings of the Biological Society of Washington, Volume 117, pp. 213-239