In a past editorial in Science, the case was made for "recognizing evolution as a basic science for medicine". The authors say that "evolution is the vibrant foundation for all biology [. . .] but its full potential for use in medicine has yet to be realized". A historical perspective, however, shows that design inferences have played an important role in medicine. Many medical advances have involved the use of reverse engineering. Medics have been great pragmatists, using engineering principles to understand anatomy, biochemistry and physiology before finding ways to address medical conditions.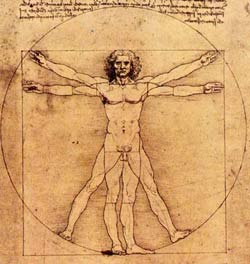 Da Vinci's Vitruvian Man
An interesting case of a "guiding principle" for medical research has recently appeared. The report gives this summary of the work:

"The researchers removed all the cells from a dead rat heart, leaving the valves and outer structure as scaffolding for new heart cells injected from newborn rats. Within two weeks, the cells formed a new beating heart that conducted electrical impulses and pumped a small amount of blood.
With modifications, scientists should be able to grow a human heart by taking stem cells from a patient's bone marrow and placing them in a cadaver heart that has been prepared as a scaffold, Dr. Taylor said in a telephone interview from her laboratory in Minneapolis. The early success "opens the door to this notion that you can make any organ: kidney, liver, lung, pancreas - you name it and we hope we can make it," she said."
The details need not concern us here. The take-home message concerns the guiding principle of the laboratory. Instead of forcing cells to behave in ways determined by experimenters, the philosophy is to go with the flow and get the cells to do things naturally.

"Dr. Doris A. Taylor, the head of the team that created the rat heart, said she followed a guiding principle of her laboratory: "give nature the tools, and get out of the way."
"We just took nature's own building blocks to build a new organ," Dr. Taylor said of her team's report in the journal Nature Medicine."
The methodology is neatly compatible with design principles: by working with cells and allowing them to do what they are designed to do, results follow.
Perfusion-decellularized matrix: using nature's platform to engineer a bioartificial heart
Harald C Ott, Thomas S Matthiesen, Saik-Kia Goh, Lauren D Black, Stefan M Kren, Theoden I Netoff and Doris A Taylor
Nature Medicine, Published online: 13 January 2008; | doi:10.1038/nm1684
About 3,000 individuals in the United States are awaiting a donor heart; worldwide, 22 million individuals are living with heart failure. A bioartificial heart is a theoretical alternative to transplantation or mechanical left ventricular support. Generating a bioartificial heart requires engineering of cardiac architecture, appropriate cellular constituents and pump function. We decellularized hearts by coronary perfusion with detergents, preserved the underlying extracellular matrix, and produced an acellular, perfusable vascular architecture, competent acellular valves and intact chamber geometry. To mimic cardiac cell composition, we reseeded these constructs with cardiac or endothelial cells. To establish function, we maintained eight constructs for up to 28 d by coronary perfusion in a bioreactor that simulated cardiac physiology. By day 4, we observed macroscopic contractions. By day 8, under physiological load and electrical stimulation, constructs could generate pump function (equivalent to about 2% of adult or 25% of 16-week fetal heart function) in a modified working heart preparation.
See also:
Altman, L.K. Team Creates Rat Heart Using Cells of Baby Rats,
The New York Times, Monday, January 14, 2008