It is 50 years since The Structure of Scientific Revolutions presented a radically different perspective on the way scientists carry out their work. Most readers of this book would have been familiar with the scientific method, which sets out the way science is supposed to work. But the textbook "scientific method" underplays the creative contributions provided by scientists, and Thomas Kuhn knew that the history of science provides abundant evidence showing that human factors deserve a much higher profile in our thinking. Yet he knew his book was iconoclastic:
"Kuhn was not at all confident about how Structure would be received. He had been denied tenure at Harvard University in Cambridge, Massachusetts, a few years before, and he wrote to several correspondents after the book was published that he felt he had stuck his neck "very far out". Within months, however, some people were proclaiming a new era in the understanding of science. One biologist joked that all commentary could now be dated with precision: his own efforts had appeared "in the year 2 B.K.", before Kuhn. A decade later, Kuhn was so inundated with correspondence about the book that he despaired of ever again getting any work done."

Cover for the 3rd edition (source here)
After two decades, "Structure had achieved blockbuster status". Sales were approaching a million copies and numerous foreign-language editions had been published. "The book became the most-cited academic work in all of the humanities and social sciences between 1976 and 1983." This last statistic is the key to understanding its subsequent fortune: the book was like a magnet to sociologists of science because its message was about the human face of science. Although Kuhn started his career as a physicist, he crossed over to the history and philosophy of science. What he had to say was less appealing to the science community.
The keyword for Kuhn was "paradigm". Originally, the word was used to refer to a defining example or pattern or model. Later, it was associated with a theoretical framework for understanding an aspect of the world around us. Kuhn's approach drew on both these meanings and gave them new depths.
"[Kuhn] separated his intended meanings into two clusters. One sense referred to a scientific community's reigning theories and methods. The second meaning, which Kuhn argued was both more original and more important, referred to exemplars or model problems, the worked examples on which students and young scientists cut their teeth. As Kuhn appreciated from his own physics training, scientists learned by immersive apprenticeship; they had to hone what Hungarian chemist and philosopher of science Michael Polanyi had called "tacit knowledge" by working through large collections of exemplars rather than by memorizing explicit rules or theorems. More than most scholars of his era, Kuhn taught historians and philosophers to view science as practice rather than syllogism."
Kuhn analysis was, and continues to be, a big influence on my own thinking. His first contribution was to show that incremental progress in science is only part of the story. It is a major part, and it tends to dominate the thinking of most working scientists. Kuhn explained how anomalies in theory are approached: normal science sees anomalies as problems to be solved incrementally whereas revolutionary science sees anomalies as pointers to another, better way of approaching the evidence and defining the problems. Finding that better way leads to a new conceptual framework and constitutes a scientific revolution.
Having contributed this understanding of revolutions in science, Kuhn also cast light on some of the extraordinary tussles that ensue before and after these revolutions. There are strongly worded disputes; scientists display emotion; people feel affronted! Kuhn explained that people who have developed different paradigms of understanding the evidence find it very difficult to communicate with each other. This is relevant to the mixed reception given to Kuhn's book: for some, it was door into a new appreciation of science, but it offended many operating within the positivist paradigm, as Kuhn made "a break with several key positivist doctrines".
"Most controversial was Kuhn's claim that scientists have no way to compare concepts on either side of a scientific revolution. For example, the idea of 'mass' in the Newtonian paradigm is not the same as in the Einsteinian one, Kuhn argued; each concept draws meaning from separate webs of ideas, practices and results. If scientific concepts are bound up in specific ways of viewing the world, like a person who sees only one aspect of a Gestalt psychologist's duck-rabbit figure, then how is it possible to compare one concept to another? To Kuhn, the concepts were incommensurable: no common measure could be found with which to relate them, because scientists, he argued, always interrogate nature through a given paradigm."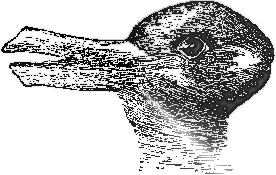 An ambiguous figure in which the brain switches between seeing a rabbit and a duck. (Source here)
These insights are extremely helpful when considering controversial issues in our own day. Take the issue of intelligent design, for example. During the rise of science, scholars worked with paradigms that were able to handle the concept of design in nature - and they found it everywhere. With the secularising influences of the Enlightenment came an acceptance of Deism - so design was admitted only as long as it was pushed to the beginnings of natural history. Later came the rise of materialism and naturalism and the desire to redefine science exclusively in terms of natural causation, and this has led us to the evolutionary world view and the rigid exclusion of intelligent design from science. These paradigm changes were accompanied by a failure to understand scholars with a different paradigm: hence the representation of anyone who upholds intelligent design as an advocate of anti-science and superstition.
The Kuhnian analysis is itself under fire today from people who are deeply influenced by the materialist world view. They cling to positivist emphases with a passion that is looking more and more like religious fervour. However, it is good to read this review in Nature. There are certainly areas of disagreement with Kuhn, but let us not lose sight of his masterful and insightful approach.
"Nevertheless, we may still admire Kuhn's dexterity in broaching challenging ideas with a fascinating mix of examples from psychology, history, philosophy and beyond. We need hardly agree with each of Kuhn's propositions to enjoy - and benefit from - this classic book."
In retrospect: The Structure of Scientific Revolutions
David Kaiser
Nature, 484, 164-166 (12 April 2012) | doi:10.1038/484164a
David Kaiser marks the 50th anniversary of an exemplary account of the cycles of scientific progress.
The Structure of Scientific Revolutions: 50th Anniversary Edition
Thomas S. Kuhn (with an introduction by Ian Hacking) Univ. Chicago Press: 2012. 264 pp. ISBN: 9780226458113