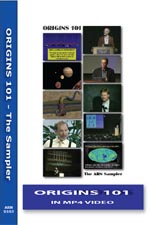 Origins 101 - The Sampler
Formats: DVD
Item# D103
Suggested Donation:
$15.00 (includes USPS Media Mail shipping to addresses in US only)
$30.00 (includes international air shipping to all foreign addresses)
You can view a low-res sample of this product at


Click Here
At ARN we are celebrating our 35 years of challenging naturalism with the release of all of our video products in a digital DVD four-disc collection entitled Origins 101: Beyond Naturalism (.mp4 files). The full set is available for $75 and features 41 mp4 video products with a web browser menu, and is designed to be played on computers, iPods, smart phones, tablets and any device that can view mp4 files. These products include leading thinkers and authors such as Phillip Johnson, Jonathan Wells, Michael Denton, Dean Kenyon, Michael Behe, Stephen Meyer, Richard Weikart, Michael Strauss and many more. Watch as they take on leading proponents of naturalism such as William Provine, Michael Ruse, and Neill Shanks.

The Sampler available on this page for $25 contains nine of our favorites from the full-set as listed below. Buy the full-set for yourself and the sampler to loan out to friends and family.

CONTENTS

Click on the title for a full description of each video

ON THE SCIENCE AND PHILOSOPHY OF ORIGINS

Can Science Know the Mind of God?
Phillip E. Johnson

The Rhetoric of Charles Darwin
John Angus Campbell

From Darwin to Hitler
Richard Weikart

ON THE ORIGIN AND DESIGN OF THE UNIVERSE

On the Origin and Design of the Universe
Michael Strauss

ON THE ORIGIN OF LIFE

Abiogenesis: The Faith and the Facts
Edward Peltzer

ON THE DISPARITY AND DIVERSITY OF LIFE

Darwinism: Science or Philosophy?
Phillip E. Johnson and William Provine

Irreducible Complexity
Michael J. Behe

Critiquing the Icons of Evolution
Jonathan Wells

The Cambrian Explosion
Stephen Meyer and Marcus Ross


NOTE: MP4 digital video is intended to be viewed on computers, iPods, iPads, and equivalent devices. This DVD may not be compatible with older DVD video players.