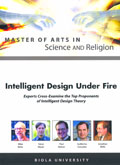 Intelligent Design Under Fire: Experts Cross-Examine the Top Proponents of Intelligent Design Theory
Formats: DVD
Item# V062
Suggested Donation:
$18.00 (includes USPS Media Mail shipping to addresses in US only)
$28.00 (includes international air shipping to all foreign addresses)
You can view a low-res sample of this product at


Click Here
Two DVD Set Runtime: 2 hours 5 minutes
On Friday May 12, 2006, five leading proponents of the intelligent design theory gathered at a sold-out auditorium at Biola University in Southern California and invited tough critics to join them and ask their most challenging questions.? Joining ID proponents Mike Behe, Steve Meyer, Paul Nelson, Guillermo Gonzalez, and Jonathan Wells were a panel of critics including professors Bruce Weber (Biochemistry, Cal State Fullerton), Larry Herber (Geology, Cal Poly Pomona, ret.), Jim Hofmann (Liberal Studies, Cal State Fullerton), Craig Nelson (Liberal Studies Cal State Fullerton) and media contributors Charlotte Laws (columnist/author), and Keith Morrison (Dateline NBC).
Steve Meyer opened the event by defining the theory of intelligent design.? Meyer stressed that ID is not an argument from ignorance, but rather a positive argument from the evidence based on four key observations:
the discovery of irreducibly complex molecular machines and circuits
the discovery of digital information and information processing systems in the cell
the discovery of the ?Fine Tuning? of the laws and constants of physics
inferences based upon our knowledge of the cause and effect structure of the world
For two engaging hours the critics launched their best shots at the panel, and the ID proponents parried back with thoughtful and forceful replies to questions such as:
Who or what is the designer?
Why is intelligent design not being discussed in the scientific literature?
Why would a scientist abandon the productive research program of the modern Darwinian process for one informed by intelligent design?
When and how did design happen?
When is consensus in the scientific endeavor important?
This has to be the best two hour summary of the controversy that is sweeping the nation. This program provides the viewer with an interesting glimpse of some of the key scientists and philosophers behind the ID movement, as well as answers to the tough questions being asked by the critics.
Proponents of ID
Mike Behe
Professor of Biochemistry, Lehigh University
Senior Fellow, Discovery Institute
Ph.D., in Biochemistry, University of Pennsylvania
Mike Behe has authored over 40 technical papers and one book, Darwin?s Black Box: The Biochemical Challenge to Evolution, which argues that living systems at the molecular level are best explained as being the result of deliberate intelligent design. Darwin?s Black Box has been reviewed by the New York Times, Nature, Philosophy of Science, Christianity Today, and over one hundred other periodicals.
Steve Meyer
Director and Senior Fellow of the Center for Science and Culture at the Discovery Institute, in Seattle.
Meyer earned his Ph.D. in the History and Philosophy of Science from Cambridge University for a dissertation on the history of origin of life biology and the methodology of the historical sciences. Previously he worked as a geophysicist with the Atlantic Richfield Company after earning his undergraduate degrees in Physics and Geology.
Dr. Meyer has recently co-written or edited two books: Darwinism, Design, and Public Education with Michigan State University Press and Science and Evidence of Design in the Universe (Ignatius 2000).
He has also authored numerous technical articles as well as editorials in magazines and newspapers such as The Wall Street Journal, The Los Angeles Times, The Houston Chronicle, The Chicago Tribune, First Things and National Review.
Paul Nelson
Ph.D., in Philosophy, University of Chicago
Paul Nelson has published articles in such journals as Biology & Philosophy, Zygon, Rhetoric and Public Affairs, and Touchstone, and chapters in the anthologies Mere Creation, Signs of Intelligence, and Intelligent Design Creationism and Its Critics. His forthcoming monograph, On Common Descent, critically evaluates the theory of common descent, and is being edited for the series Evolutionary Monographs. He is currently collaborating with Stephen Meyer and William Dembski on a book formulating a scientific theory of biological design.
Guillermo Gonzalez
Assistant Research Professor of Astronomy, Iowa State University
Ph.D., in Astronomy, University of Washington
Dr. Gonzalez has extensive experience in observing and analyzing data from ground-based observatories, including work at McDonald Observatory, Apache Point Observatory and Cerro Tololo Interamerican Observatory. He has also published over sixty articles in refereed astronomy and astrophysical journals including Astronomy and Astrophysics, Monthly Notices of the Royal Astronomical Society, Astrophysical Journal and Solar Physics. His current research interest in astrobiology focuses on the "Galactic Habitable Zone" and captured the October 2001 cover story of Scientific American.
Jonathan Wells
Senior Fellow, Discovery Institute
Ph.D., in Molecular and Cell Biology, University of California at Berkeley
Ph.D., in Religious Studies, Yale University
Dr. Wells supervised a medical laboratory in Fairfield, California, and he has taught biology at California State University in Hayward. Dr. Wells has published articles in Development, Proceedings of the National Academy of Sciences USA, BioSystems, The Scientist and The American Biology Teacher. He is also author of Charles Hodge's Critique of Darwinism (Edwin Mellen Press, 1988) and Icons of Evolution: Why much of what we teach about evolution is wrong (Regnery Publishing, 2000). Dr. Wells is currently working on a book criticizing the over-emphasis on genes in biology and medicine.
The Intelligent Design Under Fire program was hosted by the Biola University Master of Arts in Science and Religion.