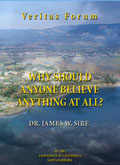 Why Should Anyone Believe Anything At All?
Sir James Sire
Formats: DVD
Item# VER-01
Suggested Donation:
$15.00 (includes USPS Media Mail shipping to addresses in US only)
$25.00 (includes international air shipping to all foreign addresses)
You can view a low-res sample of this product at


Click Here
In an entertaining and enlightening talk before a capacity crowd at the University of California, Santa Barbara, James Sire asks his audience to discover why people believe what they do. He discusses the relative merits of behavioral, sociobiological, psychological, societal, philosophic,and religious reasons for belief. He asks which of these reasons for belief is sufficient?why should we believe? Sire then asks his audience to consider Christianity?s claim to truth in light of Jesus? character, self-understanding, and teachings, the hisotricity of the gospels, and their rational consistency, coherence, and explanatory power.
Featured is a special introduction by the founder of the original Veritas Forum at Harvard University, Kelly Monroe, and an exclusive back-stage interview of Dr. James Sire.
Approximately 1 hour