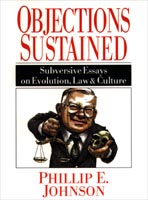 Objections Sustained: Subversive Essays on Evolution, Law & Culture
Phillip Johnson

InterVarsity Press, 188 pages, paperback, 1998

Item# B026
Suggested Donation:
$OUT OF STOCK (includes USPS Media Mail shipping to addresses in US only)
$OUT OF STOCK (includes international air shipping to all foreign addresses)

This book is a collection of Phillip Johnson's finest essays appearing in magazines and journals. Johnson covers a wide range of topics including naturalism, pop science, religious freedom, postmodernism, and natural law.

If you have read and appreciated Professor Johnson's other books, you'll enjoy this gathering of his finest work written for magazines and journals. It is also an excellent introduction to a thinker who has become one of the foremost cultural critics of our day.