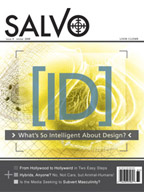 Salvo Magazine Special Issue on ID:
What's So Intelligent About Design?
4-copy bundle
The Fellowship of St. James
Winter 2008, 100 pages
Item# B135b
Suggested Donation:
$20.00 (includes USPS Media Mail shipping to addresses in US and Mexico)
$50.00 (includes air shipping to all other foreign addresses
The Winter 2008 issue of Salvo Magazine is a special issue devoted to ID entitled "What's so Intelligent about Design?" The magazine has a number of excellent articles pertaining to all the different aspects of the debate over intelligent design, penned by a veritable who's who of intelligent design scientists and scholars, including: Michael Behe, John Bloom, Raymond Bohlin, Larry Caldwell, Seth Cooper, Caroline Crocker, William Dembski, Michael Egnor, Logan Paul Gage, Guillermo Gonzalez, Phillip Johnson, Casey Luskin, Angus Menuge, Stephen Meyer, Paul Nelson, Denyse O'Leary, Jay Richards, Ralph Seelke, Geoffrey Simmons, Jonathan Wells, Benjamin Wiker, Jonathan Witt, and Heather Zeiger. This is a very attractive magazine with graphics, layout, and spoof ads that are especially appealing for high school and college age students. This is a great introductory resource that can be purchased in bulk and distributed to students, groups or lobby coffee tables.