Recommendations
"Voluminous, well-written, thoroughly researched and beautifully bound. ... ReMine's bibliography and text references read like a who's who of pro-evolutionary icons with names like Darwin, Gould, Lewin, Lewontin, Futuyma, Strahler, Dobzhansky, Haldane, Crick, and even Skinner, Sagan and Hawking. The author quotes these scientists at length, critiques them and uses the research of one to contradict he other. ...ReMine is persuasive and challenging."
- Thomas P. Ostrom, evolutionist and professor of anthropology. Rochester Post Bulletin, March 29, 1994
"The Biotic Message, a bold and fascinating attempt to state a comprehensive theory, the short of which is that life is designed to convey a message that life is the product of a single designer – as opposed to multiple designers or evolution. The thesis itself is exciting, and the argument for it provides a fresh perspective on a number of specific issues pertaining to evolution." .... "Original, and stimulating to the mind, and very thoroughly worked out. ... Well worth the money."
- Phillip E. Johnson, author of Darwin on Trial
"It's an impressive work"
- Dr. Michael Denton, author of Evolution, a Theory in Crisis
"I'd like to add my enthusiastic appreciation of Walter ReMine's book. ... I believe the book is an extremely valuable addition to the intelligent design literature and deserves a wide readership.
The main reason for my enthusiasm is that Walter presents arguments in his book that, so far as I know, have not been presented anywhere else. He particularly shows that principles of population genetics work strongly against evolutionary theory. I myself was floored by his discussion showing that the sickle cell gene actively works through natural selection to exclude a more efficient mutant, hbC from gaining a foothold in malaria-prone populations. The reason I was astounded is that I DID MY THESIS ON SICKLE CELL HEMOGLOBIN and I never thought of or read of the connection that Walter made.
As far as Message Theory goes, in the book Walter does a great job of explaining it. The theory appears to be original, defensible, and scientific. Is it true? It very well could be, as far as I can see, and I look forward to a discussion of it."
- Dr. Michael Behe, associate professor of biochemistry, Lehigh University. author of Darwin's Black Box
To view the table of contents or order The Biotic Message , go to http://www.arn.org/arnproducts/php/book_show_item.php?id=70
---
Realism Regained: An Exact Theory of Teleology, Causation, and the Mind
Robert C. Koons
2000 (Hardcover edition), Oxford University Press., 349 pp.
Let us say right off the bat, if you are looking for an easy read on philosophy and causation, this is the wrong book for you. On the other hand, if what you are after is an in-depth discussion on Philosophy's relationship to Causation, and its metaphysical applications, Realism Regained will reward your curiosity and dedication to the subject.
In his introduction, Robert Koons states that physicists are currently searching for a "theory of everything", however the theory they seek, according to Koons, has nothing to say about mental phenomena. Thus, he describes his book as a work in "real, honest-to-God, no-apologies-given metaphysics, but metaphysics conducted in a thoroughly scientific spirit."
In this wide-ranging philosophical work, Koons takes on two powerful dogmas–anti-realism and materialism. In doing so, Koons develops an efficient metaphysical system that accounts for such phenomena as information, mental representation, our knowledge of logic, mathematics and science, the structure of spacetime, the identity of physical objects, and the objectivity of values and moral norms.
Koons constructs a non-Humean theory of causation which sheds light on recent causal theories in epistemology and the philosophy of mind. In the process, he develops a parsimonious metaphysical theory, which accounts for such phenomena as: information, teleology and biological function, mental representation, qualia and mental causation, our knowledge of logic, mathematics and science, the structure of spacetime, the identity of physical objects, and the objectivity of values and moral norms.
Realism Regained offers a broadly "naturalistic" account of norms, building upon and refining the teleological theories of Dretske, Stampe, Millikan and others. However, Koons argues against a narrowly materialistic view, providing seven independent lines of argument for the existence of non-physical facts, in particular, facts of logical, mathematical and natural necessity.
Recommendations
"From the point of view of general philosophy, an exciting feature of Realism Regained is that the logical developments are applied to a range of philosophical problems, resulting in a book with a wide sweep: it is synoptic, systematic and advances many novel and challenging theses. These are connected through causation and teleology: the early logical chapters provide a theory of causation in a formal setting. A notable feature of the account of causation is that it makes room for timeless and non-spatial entities, like modal facts, to be causes; and the later chapters apply this to a succession of topics."
- Mark Sainsbury, King's College, London.
"Realism Regained is a really important achievement on a grand scale. Throughout the book one finds promising new ideas and new ways of making old ideas more precise."
- Timothy Willimason, Edinburgh University
"Realism Regained stands out as the first extended work to make use of the account of causation coming out of situation theory. This realist account of causation and the account of information and function built on it are quite novel but based on solid technical foundations. This book is a 'theory of everything.' It covers a huge range of issues but in each case shows how the formal theory of functions underlies the particular approach taken. It will grab attention and has the combination of formal details and philosophical argumentation to raise interest and discussion from several directions."
- Bernard Linsky, University of Alberta
To view the table of contents or order Realism Regained, go to http://www.arn.org/arnproducts/php/book_show_item.php?id=69
---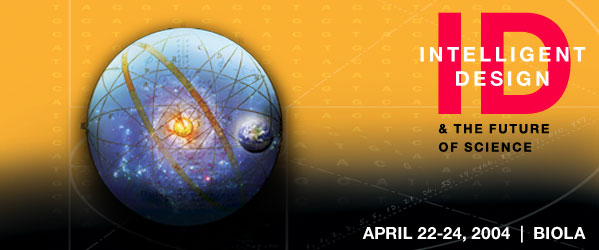 Last month we announced the upcoming Intelligent Design and the Future of Science conference to be held at Biola University. The conference will kick off Thursday April 22 at the Crowne Plaza Hotel with a Banquet Dinner and lively cast of speakers including Phillip Johnson, Bill Dembski, Steve Meyer, David Berlinski and ID critics Michael Ruse and William Provine. The complete speaker list and conference agenda have been updated on the conference website, so be sure to check it out.
I will be there hosting an ARN book/video table along with Tom Magnuson and Art Battson (who will be videotaping some of the sessions for future ARN video products). Please stop by and introduce yoruself if you are at the conference.